Who we are and what we look for
Our people
Our people include lawyers, social workers, legal support staff, corporate services staff and executive services, who work together to deliver high quality prosecutions independently, fairly and efficiently for the Victorian community.
We aspire to be a leader in the criminal justice system, continually adapting to deliver effective outcomes for our community by valuing and supporting our people, applying our unique legal expertise and leveraging our digital capability.
We offer flexible working arrangements, a variety of learning and development opportunities and Bring your Dog to Work Day.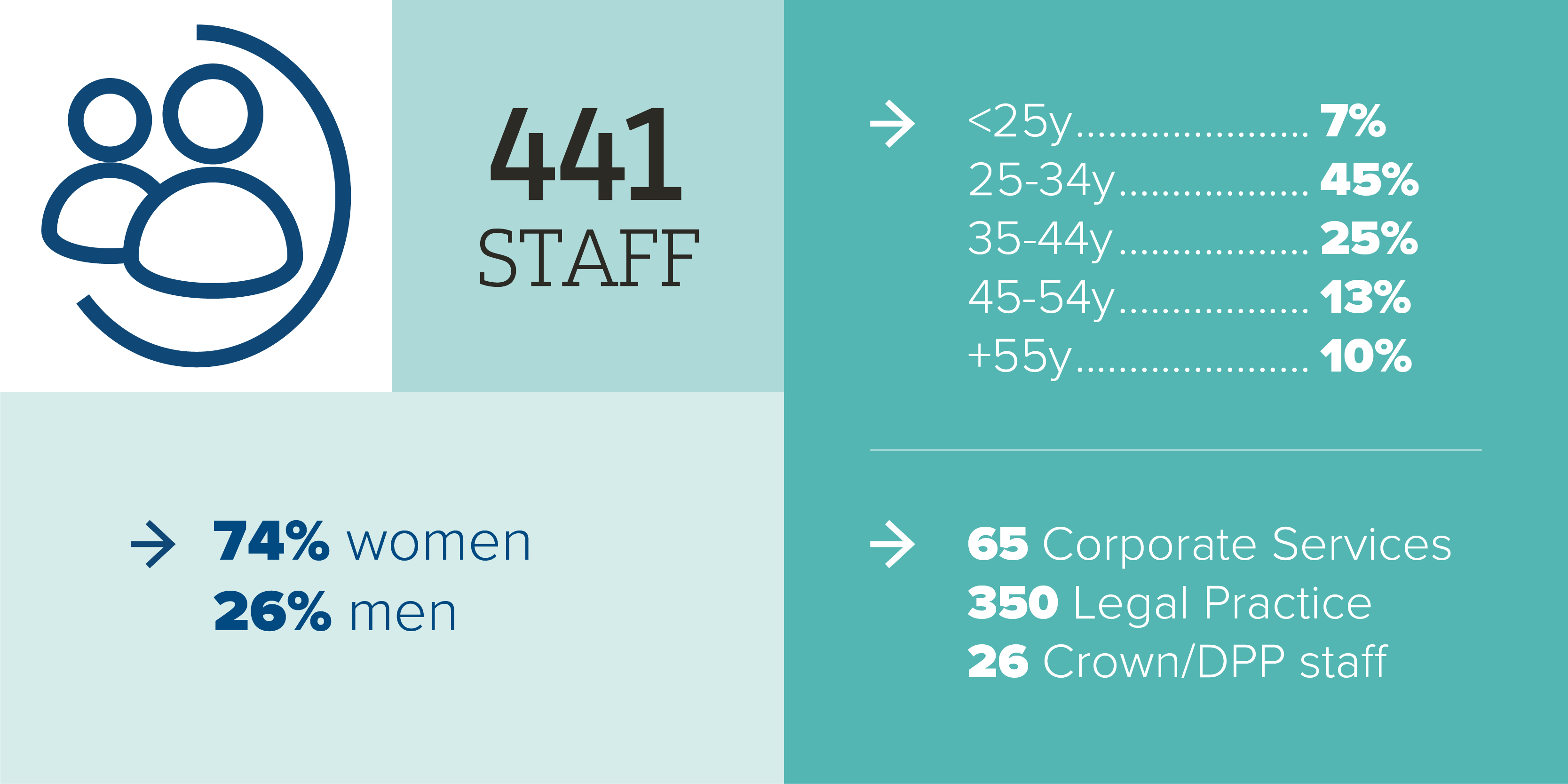 What we value
Treating everyone with respect
Working collaboratively
Embracing innovation
Striving for excellence
Acting with integrity
We do not tolerate bullying, harassment or discrimination.
About you
We welcome great lawyers and great people from diverse backgrounds who share our values and our commitment to doing great work for the Victorian community.
You will be:
interested in the criminal justice system
committed to delivering high quality prosecutions and supporting victims and witnesses
a skilled communicator with excellent people skills
a great team player who is keen to develop and share new knowledge and skills
a creative problem solver who is able to work to tight deadlines
adaptable and agile in your thinking and your work.
Seasonal Clerkship Program
The Seasonal Clerkship Program is available to students who are in their final or penultimate year of study. For more information, see the Law Institute of Victoria's Seasonal Clerkship Traineeship Guidelines.
Our Seasonal Clerkship Program provides law students with an opportunity to gain practical legal experience, develop their skills and explore different kinds of interesting and challenging work at the OPP.
Applications for 2024 Seasonal Clerkships are now open. Click here to apply.
If you are interested in a Legal Traineeship at the OPP you must complete the Seasonal Clerkship Program in the year prior. We select legal trainees from candidates who have completed the Seasonal Clerkship Program.
Legal Traineeship Program
The OPP Legal Traineeship Program is open to law graduates (Bachelor of Laws or Juris Doctor) who:
have completed an OPP Seasonal Clerkship Program in the year prior
are not currently undertaking their Practical Legal Training (PLT) coursework and have not been admitted to practice.
The Legal Traineeship Program is a unique start to your legal career. Legal trainees rotate through different practice areas of the OPP and participate in the preparation and conduct of different kinds of matters, under the guidance and supervision of senior lawyers.
As a Legal Trainee you can expect to:
help prepare legal advice and legal documents such as indictments
participate with social workers in conferences with victims and witnesses
attend court and instruct Crown Prosecutors and counsel briefed by the OPP.
The Legal Traineeship Program meets the requirements of supervised workplace training.
Legal trainees also complete a comprehensive development program covering relevant aspects of criminal law and training in the competency standards for entry-level lawyers by an approved training provider.
Legal trainees also have access to the OPP's extensive Continuing Legal Education (CLE) program covering current and relevant aspects of criminal law.
Law Student Development Program
The Law Student Development Program is for legal support staff at the OPP who are also studying law and would like to work as lawyers in the future.
This is a fast-track program designed to help participants gain the skills and experience they need to apply for a junior solicitor role at the OPP or elsewhere.
Participants have opportunities to:
work on a file from start to finish under supervision
participate in study groups with senior solicitors and Crown Prosecutors
learn about how trials and other hearings work in real life
work on discrete tasks to support solicitors
attend and observe court hearings and conferences with victims and witnesses
attend panel group discussions from people who have completed the program about pathways to Practical Legal Training and OPP Traineeships.
Participants may apply for study leave and flexible working arrangements.
Here's what some of our participants had to say:
"The Law Student Development Program provides an unparalleled law student experience, as you get to essentially work as a solicitor on a real case from start to finish, under the guidance of very experienced solicitors who are there to support you."
"I would highly recommend any law student interested in criminal law at any stage of their degree to work at the OPP. The OPP is very flexible in terms of university commitments, and you are connected to a great group of other law students at various stages of their degrees as well."
Lodge your application here: Careers with the Victorian Government.
Remember to address the selection criteria for the role. This is important because we use your answers to the selection criteria to shortlist and select candidates for interview.
Your application should include:
reference number and title of the role
covering letter
current resume including details of two referees
proof of admission or eligibility for admission to practice (for solicitor roles)
a business hours contact number.
After you lodge your application
We will acknowledge receipt of your application.
If you are shortlisted, we will contact you. This will usually be within seven business days of the application closing date.
Our Human Resources team will contact each applicant by email to advise them of the outcome of their application. This will usually be within two weeks after the conclusion of the selection process.